Flood Concerns Near Catoma Creek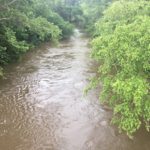 After record-breaking rainfall this weekend, flooding is a concern this week. The flood warning continues for the Catoma Creek near U.S. 331 Highway bridge.
EMA director Christina Thornton warns that there is a minor flood advisory for the area surrounding the Catoma Creek for several days this week. She says "its starting to reach out to the areas around it, mind you it could be pastures , and just kind of flat land, It's not severely affecting that immediate area currently".
While Thornton says that the flooding of the creek doesn't pose an immediate threat to homes nearby some homes in West and North Montgomery have already seen extensive damage."We're trying top see what volunteer organizations we can get to come in and help maybe ripping out carpet.or removing anything that's been damaged so that the mold wouldn't have an opportunity to grow" says Thornton.
Though you can't stop the rain from coming down, Thornton says there are steps that you can take to protect you and your home from flooding. She explains"obviously when the water is two feet from your door its hard to call the Montgomery Police, fire, EMA anything like that because we cant magically turn the water off… but if you're anticipating this large amount of water just like we had Saturday night this amount of rainfall in a short period of time…think about sand bags.It could be plastic bags with potting soil in it around your doors".
Thornton says that they are anticipating water levels in the creek to rise to about 21 feet. The National weather service reports that the creek should be back below the flood stage by Wednesday.