Your Town Friday in Tallassee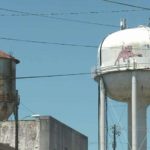 Just under 5,000 people call Tallassee home we spoke with  a few who shared what Sets Tallassee apart from any other town.
Resident, Hunter Mote grew up in Tallassee says there's a little something for everybody here. He says "you can kayak, there's a lot of folks that like to go down there and go fishing. Older seniors they'll get together and have like trades day where some of the older ladies can swap like food recipes and stuff like that".
It's the close knit community that Mote loves about Tallassee. He explains "the community is always there for you, and they've constantly got your back if you need somebody or your neighbor is there for you and theres a lot of folks I know, they'd give you the shirt of their backs if you'd ask them for it".
Other resident's agree that their town is full of history.
"It was a part of Tallassee and now it's gone" says Larry Wright describes losing the city's 175 year old textile mill after it burned down just over a year ago. He says it was once "the center of the town. He also recalls Hotel Talisi, which burned down in 2009. He says "I went to college at Auburn, a lot of the kids would come over her to eat, it was that much of an eatery that everyone knew".
Wright hopes the spaces can be made into something that the whole town can enjoy while remembering the history that once stood. "Like a river walk, a park down there, I think that would be nice" says Wright.
Margaret Lumpkin says Tallassee has grown a lot since she moved here 30 years ago. She says "It's a community people work together to try to grow Tallassee and that's appealing if you're wanting to raise a family."
Lumpkin describes Tallassee as a small town with big town opportunities but says there's still room to grow. She explains"yes, it's good to keep our heritage the history that we have don't wanna lose that but we also have to move on and include more business more technology and things like that".
Residents say they hope more businesses come to the area so that they an shop local instead of having to visit bigger towns nearby.