Gathering Of Eagles at Maxwell Air Force Base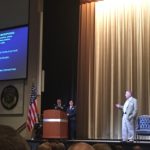 The Eagles have gathered at Maxwell Air Force Base. The annual Gathering of Eagles program brings together aviation heroes and pioneers to share their experiences with a new generation of leaders.
"We're trying to honor war heroes and, heroes of our nation, in an effort to grow future leaders" says Major Charles Jefferson
All week long, students at Air University will hear from 8 Eagles, who made significant contributions in the Gulf War, Desert Shield, and Desert Storm.
Jefferson explains "we take their stories and we try to pass them on to future generations".
Tuesday, retired Major General Charles A. Horner, one of the key architects of the Gulf War,shared some of his wisdom with the Air Command and Staff College. Horner jokingly says "its my way of paying back to them from what I got from being in the Air Force, and they might learn something although I doubt it"
Horner commanded all U.S and allied Air during operation Desert Shield and Desert Storm….He says its humbling that students were eager to hear from him. "I was a little surprised students had interest in dessert storm, I mean its ancient history" says Horner.
Students wanted to know some of the most important things that Major Horner learned during his 30 years in the Air Force. Horner says his most valuable advice, wasn't learned in combat. He explains "the main thing about being at a school like this is to have fun, get to know your classmates because cause that's where the real learning occurs. If they do study Desert Storm I hope they keep an open mind that it wasn't all good it wasn't all bad".
The Gathering of Eagles program has included combat leaders from World War I, World War II, Korea, Vietnam, the wars in the Middle East and many civilian luminaries.