Combating Mosquitoes: Tips To Keep You Safe From Disease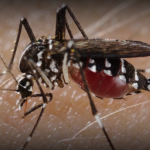 Annoying..that's what comes to mind when most of us think of mosquitoes. But are you doing enough to steer clear of the viruses that they carry?
Kristin Beckham was out woih her dog at Shakespeare Park when we asked what steps she's taking to keep mosquitoes away, Her reply:  says she uses "just bug spray to keep things off".
Like Beckham,   insect repellent is the go-to line of defense for many when it comes to pesky mosquitoes. However, Scott Harris with the Alabama Department of Public Health says you should be a little more thorough, especially around your home.
He explains "certain kinds of mosquitoes can breed in water as small as a bottle cap or an empty soda can so, what we encourage people to do is just look around your property look for places where mosquitoes can breed and many times it'll be maybe a gutter that's stopped up with leaves or branches."
Harris advises you to rid these breeding hot spots of water every two to 3 days.
He goes on to say  "children's toys that can sort of form a little pool when it rains , potted plants that have a little drip pan underneath them, mosquitoes love those areas".
Dr. Harris specializes in infectious disease. He and his colleagues have been actively preparing for a Zika Outbreak in Alabama."We've had cases of Zika in the state , that have occurred in people that have traveled to parts of the world where Zika transmission is going on but we've never had any local transmission by any here in our state says Harris".
He also warns against another  disease carried by mosquitoes, West Nile. The virus is one of the most common in the country though he says "we don't have big problems with that in Alabama"
Though  there's no immediate threat for either in Alabama right now, Harris says your  your guard should still be up.
Other tips from Doctor Harris include dressing appropriately if you plan on being outdoors,  especially around dawn or dusk.  That means covering up as much as possible and wearing dark colors. Lastly, if you're using bug spray, make sure it's EPA approved.