Your Town Friday: Hank Williams Festival In Georgiana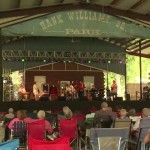 Georgiana is one small town takes pride in being the home town of a big star. Many say it's the southern hospitality and the annual Hank Williams Festival,that puts Georgiana on the map.
Hundreds, gather in Georgiana every year with one thing in common, celebrating the legacy of Hank Williams.
Hank Williams Fan Club President Sherri Brackin says  "It's amazing how there's people overseas that have heard of hank of course and they love his music".
Like one bunch that traveled all the way from Australia. Narelle Tuinbull says  "I wish I could come back next year , but its a bit far to come".
Though everyone has their own different Hank Williams song, one thing that many festival goers agree on, is that they love the down home feel of Georgiana. Or as Georgiana Mayor Jerome Antone calls it,"a good place to work live and play".
"The people that come through here off the interstate they just love it, they love it. And some people have talked about if I was ever going to retire id like to move here because its just every body knows everybody"says Brackin.
This the 4th year that Sidney Roberts and his wife Linda have made the trip from Louisiana.They say they're soaking up the southern hospitality. Roberts explains "people have been great up here they treat us real well and we've just had a great time its like leaving our back yard and coming to y'all's".
Brackin adds "Its just like a good old country town, when you're driving down the road, the country road and the person coming at ya waves at you , you don't know em but its just a southern thing."
The festival has been in Georgiana for 38 years and organizers say they hope the tradition will keep Hank Williams' music alive forever.