Employee Shot at Lowndes County Gas Station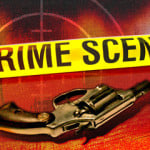 Lowndes County Sheriff John Williams says one person was shot during a gas station robbery.
It happened Monday evening at the Marathon gas station near Hwy 21  and U.S. Hwy 80.
Sheriff Williams says the victim worked at that gas station. He was airlifted to a Montgomery hospital. The victim's condition is unknown.
Authorities are looking for the shooter. Anyone with information that could help solve this case is asked to call  Crimestoppers at 215-stop.