Montgomery Sheriff's Office Host's Fishing and Conservation Program To Help "Keep Kids Out Of Trouble" This Summer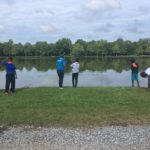 Local Law enforcement have turned the great outdoors in to their classroom in hopes of keeping kids out of trouble this summer. Thursday morning youngsters from various Montgomery County summer programs graduated from the Montgomery County Sheriff's Office Youth Learning, Education and Conservation program.
Dozens of kids were at the youth fishing and conservation class with their fishing rods in hand learning some of the basics. The two day program is part of the Sheriff's Office's summer break crime prevention series.
"In the summer months we try to show there are a lot of activities that you can get your kids involved with besides sitting at home playing Xbox or them hanging out in the streets." says Montgomery
Volunteers from the Rumblin' Water BASS club in Wetumpka taught knot tying and fishing rod casting techniques. Club President Tomy Gables says "just to be able to give these kids something to do and to open up a different avenue in their life, fishing is an exciting thing."
For participant Akira Sims, Thursdays class wasn't her first time picking up a rod. She shares that  her favorite part of the program is "to not be inside all of the time with the devices and be outside and explore different things".
Others like Samuel King who says "even though I didn't catch anything I still had fun",enjoyed getting up close and personal with other animals. Retired Policeman "Ron the kritter man" stopped by to teach participants  a lesson on wildlife.
Cunningham explains "We want them to learn about what's out here, and learning when they're fishing if they happen to look down and see something,a snake or whatever the case may be , what you need to do".
If you missed the opportunity to get your kids involved in the youth fishing program, Sheriff Cunningham says they've already started enrolling for another program in July. For information on you can call the administrative office of the sheriff, and ask for Lisa Crenshaw, at 334-832-1339. Applications can be completed through email and are open to the first 30 kids.