TSA is Testing 3-D Scanners for Carry-on Luggage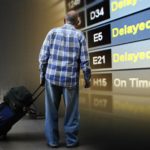 Federal officials are screening some carry-on bags with 3-D scanning technology, which they say improves the ability to find bombs.
The Transportation Security Administration said Thursday that it is testing computed tomography, or CT, scanning at one checkpoint at Phoenix Sky Harbor International Airport.
The technology is already used for screening checked luggage.
CT scanners create a 3-D image that can be rotated to give screeners a better look. Suspicious bags can be pulled aside and opened by screeners.
The test is being run with American Airlines. TSA says it will expand the test to Boston's Logan Airport later this month.
(Copyright 2017 The Associated Press. All rights reserved. This material may not be published, broadcast, rewritten or redistributed.)