Two Women Accused of Leading Police on High-Speed Chase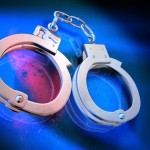 Montgomery police have arrested two women accused of leading authorities on a chase Monday afternoon.
Police say the women are suspects in a robbery in the 2500 block of Berryhill Road.
Police spotted the suspected vehicle and tried to pull them over. The women they led police on a chase until they crashed onto church property in the 100 block of Arden Drive.
Charges are pending against the suspects.
Keep checking www.alabamanews.net for updates to the story.