Governor Ivey Meets With State EMA To Prepare For Tropical Storm Cindy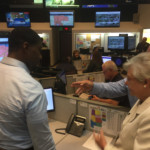 Governor Kay  Ivey and Emergency Management officials have been keeping a close eye on severe weather conditions statewide and gearing up for whatever may come our way.
State Meteorologist  Jim Stefkovich explains "we still want people to be prepared to get the tornado warnings the flash flood warnings".
Ivey says that making sure that state and local agencies are ready to respond to the unpredictable elements is
at the top of her priorities. That's why she and State EMA officials have been proactive.
Ivey say "last Tuesday morning I issued the declaration of emergency so that agencies and resources could be positioned and staged to get prepared to provide the state of Alabama the greatest protection going forward".
Though the severe weather threat varies for different parts of the state, officials are advising all stay as safe as possible. Ivey warns "wherever there is water all of our citizens need to be careful and cautious and we all need to be weather alert".  Stefkovich echoes "there's a saying turn around don't drown, especially when you can't see the road at night".
As for the State EMA's readiness, Ivey says "we are prepared".
If you have to drive in this weather, Ema officials are also advising you to know the conditions of roads in your area before you head out. To keep up with road conditions and closures in your area follow this link