New Department of Mental Health Commissioner Sworn In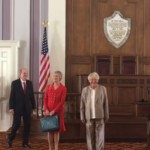 Governor Kay Ivey has made a few changes to her staff.  Lynn Beshear, is now the new commissioner of the department of mental Health Beshear replaces Jim Perdue, who offered Ivey his resignation as commissioner last week.
Beshear was sworn in today and says "its a little bit surreal in a way". She and Governor Ivey are and looking forward to serving a community that is in many ways under served.
"This often overlooked area of health care needs our attention, so it is with these things in mind that I chose Lynn Beshear to lead the department of public health" explains the governor during Beashear's swearing in ceremony.
Beshear says one in 5 people will experience mental illness in any given year and that her time as commissioner, will be spent focus on serving Alabamians with mental illness, those who are developmentally delayed, and those who struggle with substance abuse
The new commissioner also wants to see more people educated on how to interact with those with mental illness, including law enforcement. She explains "on the local level here in Montgomery we want to establish a mental crisis center, this calendar year, so that people will not have to be taken to jail or the emergency room".
Beshear's colleagues say the governor's recent appointment is well deserved. "What she's bringing to the table as the new commissioner is she knows how to work with a variety of organizations. We all want what's best for the people of Alabama and Lynn is really just the perfect fit" says Kimberly Wolfe, executive director of Alabama's chapter of the  National Association of Mental Illness.
Beshear previously served as executive director of Envision 2020. A group that works to developed shared goals that benefit the future of the river region.