New Developments On The Way To Lower Dexter Avenue In Downtown Montgomery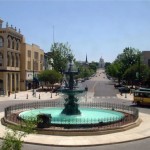 The landscape of downtown Montgomery is changing once again. If you've passed through  lately, it is hard not to notice all of the work going on. Especially along Dexter Avenue.
"You're going to see a lot of life spring up on Dexter Avenue, "LoDex" is what they're going to call it" explains Clay McCinnis, president of the  Downtown Business Association.
He says "what you're going to see in August, September, October…big developments like the Kress, like those lofts Foshee is doing right across the street".
McCinnis says downtown has almost doubled its apartment capacity in the last 2 years, but residential spaces aren't the only developments that will be popping up. Montgomery Mayor Todd Strange says that many of the now empty store fronts will be home to both retail and commercial establishments.
Strange says  "it's gonna be some mix use retail down below and some residential up above"
McCinnis  explains that these new additions go beyond just economic development for the downtown area. He believes the changes will help bridge the gap between the commerce street and the entertainment district."Really what it's going to do is bind the community together in an intentional way." he adds.
Some of the residential spaces like the Foshee lofts have already started leasing for future residents.