Gentile Leaves Senate Race, Endorses Brooks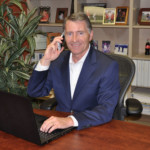 U.S. Rep. Mo Brooks has picked up the endorsement of a fellow Republican who is dropping out of the race to fill Jeff Sessions' former Senate seat.
Hoover businessman Dom Gentile announced Monday that he is withdrawing from the U.S. Senate race. Gentile is endorsing Brooks in the Aug. 15 primary.
Gentile said his wife was recently diagnosed with breast cancer, which led to the decision to leave the race.
Brooks, a member of the House Freedom Caucus, is part of a crowded GOP field vying for the seat.
Republican Sen. Luther Strange now holds the position. He was appointed by the state's governor when Sessions became the nation's attorney general.
Former Chief Justice Roy Moore, Montgomery physician Randy Brinson and state Sen. Trip Pittman are among the Republican candidates.
(Copyright 2017 The Associated Press. All rights reserved. This material may not be published, broadcast, rewritten or redistributed.)