Fallen Trees Damage Two Homes in North Montgomery County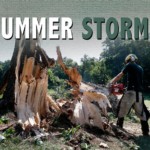 Montgomery County Emergency Management Director Christina Thornton says fallen trees damaged two homes in North Montgomery County Friday.
The homes are located at 38 and 42 Rosewood Pl.
Thorton says the strongs storms that blew through the area brought the trees down.
No injuries were reported.