SPLC asks Alabama to Restore Voters to 'Active' Status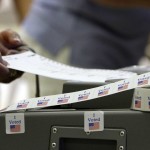 The Southern Poverty Law Center is asking Alabama to restore thousands of people to active voter status after election day confusion.
In a Friday letter to Alabama Secretary of State John Merrill, the organization said it believes large numbers were incorrectly moved to inactive voting status during an update of rolls.
SPLC President Richard Cohen said they are worried that stopped people from voting in Tuesday's Senate primary.
Merrill said Friday that his office "followed the law" during a refresh of rolls. Merrill said people were placed on inactive status after mailed registration cards were returned as undeliverable. Inactive voters can vote, but must update registration information first.
The letter said the confusion experienced by voters indicated that the process was "deeply flawed and in need of immediate corrective action."
(Copyright 2017 The Associated Press. All rights reserved. This material may not be published, broadcast, rewritten or redistributed.)