World War I Statue Unveiled At Montgomery's Union Station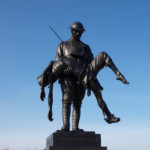 The next time you're  at Montgomery's Union Station you'll likely notice a new addition. A bronze sculpture now stands as a memorial to the men of the 167th U.S. Infantry Regiment, also known as the 42nd Rainbow Division.
The statue was dedicated Monday night, exactly 100 years after members of the 167th U.S. Infantry Regiment from Alabama joined the fight in World War. Some of their relatives were in the audience  as the Rainbow Soldier statue was unveiled.
Rod Frazier with the Croix Rouge Memorial Foundation , says they donated the sculpture to the city of Montgomery because they felt it was an important piece of Alabama's history and worried it would be forgotten.
He says "you couldn't ask somebody about the 167th and get an intelligent answer so I felt that it was important for us to memorialize these 3,776 people".
A century later Heath Lewis, aims to continue telling the story of the men that were apart of the same infantry long before him.
The Lieutenant Colonel says "World war 1 and world war 2 are huge events and both fought to take evil out of the world at the time , and both were successful so today is just an opportunity to remember the start of that journey, the unit stayed mobilized until 1919 so for the next couple of years there will be a couple of more key significant events that will continue on".
An exact replica of the statue, made by the same sculptor, also stands in France as a symbol of the ties between Alabama and France.