Labor Day At Lake Martin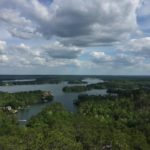 It was another beautiful Labor Day on Lake Martin, that means plenty of people out on the water soaking up the last few rays of summer. Monday's Blue skies and sunshine were the perfect recipe for lounging out on Labor Day but also for nearby businesses.
"We were a little hesitant with the Hurricane Harvey bands coming up here but its cleared up , the weather has been really nice, water is nice and warm its almost bath tub water" says Executive Chef at Kowaliga restaurant.
He explains  "I think people are a little bit more comfortable with the economy, and getting out on the boats and opening money at the restaurants and buying gas and enjoying themselves".
Because of the extra rainfall this summer, Alabama Power will keep the level of Lake Martin higher for a few extra weeks into the fall. That extension will last until October 15th.