Former Legislator Pleads Guilty to Taking Bribes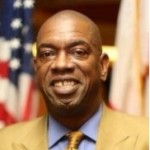 A former Alabama legislator has pleaded guilty to taking bribes from a lawyer and a coal company executive to oppose adding Birmingham area neighborhoods to an EPA Superfund site.
Former Rep. Oliver Robinson of Birmingham on Thursday pleaded guilty to federal charges of conspiracy, bribery, honest services wire fraud and tax evasion.
Federal prosecutors said Robinson took a contract with a law firm as a reward for using his position to oppose EPA's prioritization and expansion of a north Birmingham EPA Superfund site.
Federal prosecutors have not named the individuals they said bribed Robinson.
Robinson entered the plea in federal court in Birmingham.
He will be sentenced on Dec. 7.
(Copyright 2017 The Associated Press. All rights reserved. This material may not be published, broadcast, rewritten or redistributed.)