Selma City Schools Selects New Superintendent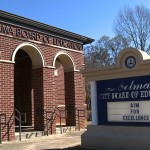 The Selma City School Board has selected its new superintendent.
Dr. Avis Williams of Tuscaloosa will be district's new leader if she accepts the offer.
She was chosen over four other finalist including interim superintendent Arthur Capers, Dr. Dee Ray Hill of Georgia, Dr. Avis Williams of Tuscaloosa, Dr. Robert Griffin of Selma and Dr. Regina Thompson of South Carolina.
Williams will replace Dr. Angela Mangum who resigned earlier this year.