FEMA Supply Trucks At Maxwell Air Force Base, Ready To Send Supplies After Hurricane Irma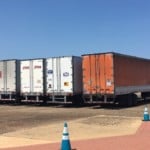 Hundreds of tractor trailers are lined up at Maxwell Air Base ready to send aid to communities in Irma's path. That's because Maxwell is an incident staging base for the Federal Emergency Management Agency (FEMA). For the last 2 days those trucks have been heading to the base waiting to be put into service, if needed.
"Some of the supplies actually came from Harvey that were not needed over there" says Ken Shields with FEMA. He explains that they'll have to wait until after the storm passes to know just how many of the trucks will be sent to Florida. Shields says "we have started to ship a few just in preparation but we don't want to put too many supplies in the way of the storm".
The base is also housing more than just FEMA trailers. Colonel Eric Shafa commander of the 42nd Air Base Wing says "this morning we took in a navy unit from Jacksonville, so we're looking at approximately 60 helicopters and 200 plus personnel".
Jacksonville's Naval Air Station isn't the only air base wing looking to wait out IRMA at Maxwell.  Shafa says "we are definitely taking calls they've been coming in every hour and they're looking at options right now and Maxwell is one of those options". The base is making preparations to receive other military aircraft and evacuees, if necessary.
Crews from FEMA and the defense logistics team will be on base to receive those supplies in the next few days and decide where they are needed the most.