Crenshaw Co. Schools Cancels Classes a Second Day Following Veiled Threat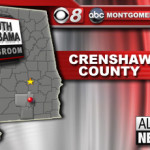 Crenshaw County Schools announced on its Facebook page Tuesday evening that classes would be canceled a second day on Oct. 4 to give authorities more time to investigate an unspecified threat against the district.
The FBI is heading up the investigation and so far, no arrests have been made.
Crenshaw County School Superintendent, Dr. Boyd English says  "we were notified by authorities at the local level who had received information from state and federal officials of a potential threat that caused some concern for the safety of our students and our faculty."
Stay with Alabama News Network for updates to this story.