Deconstruction Of Webber Building Downtown Almost Complete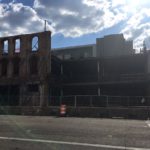 In about 3 weeks, what's left of the Webber Building in Downtown Montgomery will be no more. The building was taken over by a company called Marjam, last year. One City officials outlined what she believes is next for the space.
"A long slow goodbye"…that's how Lois Cortell, Senior Development Manager for the city, described the deconstruction of the Webber Building, also known as the Old Montgomery Theatre downtown.
The deconstruction process has been ongoing for about a year now. Cortell says it's not to be confused with demolition."One of the conditions of the sale was to maximize the salvage of the materials and to do that really involved a slow deconstruction" she explained.
Materials from the historic building, such as the bricks, cast iron and windows, will now be reused throughout downtown and other places in hopes of preserving some of the building's history. Cortell only wishes plans to salvage the building itself had happened a lot sooner. She says the time to think about saving it was decades ago.
Details of the future space are vague right now, Cortell says the building's owners are keeping that a secret until the lot is completely clear.
Cortell said "the current plan is most likely to be some sort of open space, but they certainly could put a building there at a future date".
With less than a month until the Webber Building is no more, local business owners like Reggie Miller say the end of deconstruction is somewhat a sigh of relief. He says "what we're looking forward to is hopefully it will open up soon so that we can have more traffic along the side walk".
500 bricks from the Webber Building will be authenticated and available for sale through the Montgomery County Historical Society. More information is available on this website.