Friendship Mission Thrift Store In Need Of Assistance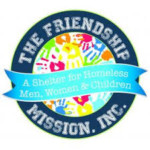 For a little over a year now, Friendship Mission Thrift Store has been helping those dealing with homelessness one purchase at a time. The thrift store helps fund 2 homeless shelters for men, women and children. Plus, a soup kitchen that serves around 8,000 meals every month. Executive Director Tammy Middleton says there's almost always a full house.
"We had 334 men women and children in our shelter last year, there's always a wait list, always more than that trying to get in" she explained.
The non profit offers assistance beyond just food and shelter, the goal is to help those that come through the doors become independent again. Middleton says much of their outreach would not be possible without the thrift store's profits, though she says they're having a hard time getting more people through the doors. "we need the donations" she said "but we also need people to come in here and shop, its just a huge store its got lots of great stuff, and lots of new things a lot of things for Christmas presents. We all are looking for that deal for Christmas and I always tel people come here first".
Your donation or purchase could help fund more of the shelter's success stories, and keep their mission going. Middleton says "there is nothing more amazing, than to see a mother with her children work the program to the point that when she moves out she moves into her own apartment she's standing on her own feet supporting her children for the first time".
All profits from the store stay in the community, and in addition to shopping or donating to the the thrift store, you can also help by donating items directly to the shelter. Friendship Mission is in urgent need of cleaning supplies and paper products. More information on the shelter's needs and how you can help are listed on their website.
http://www.friendshipmission.org/