Judge to Rule on Suit Against Former Alabama Governor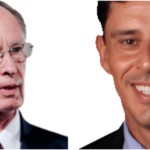 A judge says he will rule by noon on Friday whether to throw out a lawsuit filed against former Alabama Gov. Robert Bentley by a one-time aide.
The comment by Montgomery County Circuit Judge Greg Griffin came at a hearing held Monday in the lawsuit filed against Bentley by Spencer Collier, the former head of the Alabama Law Enforcement Agency.
Collier sued Bentley over his firing.
Al.com reports Bentley's lawyers claim he is immune from the lawsuit because it involves actions taken while still governor.
A lawyer for Collier says the lawsuit accuses Bentley of doing things that are illegal, and such actions aren't covered by immunity laws.
Collier's dismissal began a series of events that ended in Bentley pleading guilty to campaign finance violations and resigning last year.
(Copyright 2017 The Associated Press. All rights reserved. This material may not be published, broadcast, rewritten or redistributed.)