Ron Sams Named Montgomery's Director Of Public Safety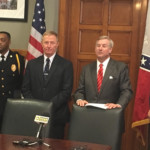 A little more than a week after Montgomery Public Safety Director Chris Murphy announced his retirement, his successor has been named. City officials welcomed a new addition to the staff Wednesday, as Ron Sams was announced Montgomery's Public Safety Director.
Sams says he is familiar with the inter-workings of the city of Montgomery, serving as the city's Director of I
nvestigations for last 7 years. But, he believes it's his experience as a former LT. General, that will give him a leg-up. "As a wing commander I've had thousand of people work for me, i deployed multiple times to war zones and they are all different but they are all the same. This is all about getting teams of people to work together" he explained.
The director of public safety oversees 3 departments including police, fire and emergency communications. Montgomery Mayor Todd Strange created the position in 2010 after he consolidated public safety functions. Strange says he initially considered getting rid of position after Murphy's retirement announcement but decided against it.
The Mayor says that having public safety officials report to a director rather than himself, will allow him to focus on other areas like education, economic development and technology. "To have half of the city reporting directly (to me) as opposed to through an individual just didn't allow me the time to be able to do those other things that I really want to do" said Strange.
Ron Sams will be acting Director of Public Safety starting December 1st,  but the change of office will not be official until Chris Murphy retires at the end of the year.