Prattville Police Dept. Share Holiday Shopping Safety Tips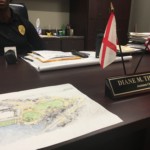 The holiday hustle and bustle is right around the corner, and Prattville Assistant Police Chief, Dianne Thomas says
unfortunately, so is a spike in crime.
When it comes to holiday shopping, Thomas says a little extra caution could keep you from becoming a victim. She recommends shopping in groups, especially at night, and having your keys handy before you get to your car.
"Often times you drive through the parking lot and you see people rambling through their purse trying to get their keys and they are giving the criminal a chance to approach you"she says.
Thomas says the next few months, the department expects to respond to more car break-ins in shopping centers, many she says could be prevented. "I would say out of 5 vehicles that are broken into, probably 2 or 3 left their doors unlocked explained Thomas.
As always, police are encouraging shoppers to keeping valuables out of plain sight, but for those doing heavy duty shopping,Thomas says you may want to take it a step further. "If you're just overloading, we suggest that sometimes you just go and make a dump at your house and then start your backing up" she warned.
The department has already stepped up their patrols in places like shopping centers. The increased police presence is something shoppers like Mary Jones says gives her a peace of mind.  "We love to see them around, because we figure they are not going to bother us too much if they are around" said Jones.
Click here for more holiday shopping safety tips from the National Crime Prevention Center.