No. 6 Auburn Holds Off No. 1 Alabama, 26-14 in Iron Bowl
Tigers Win First Iron Bowl Since 2013-2014 Season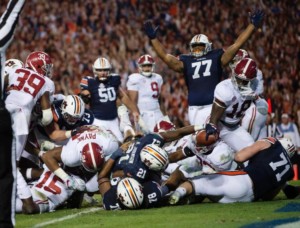 The 82nd edition of the Iron Bowl did not disappoint for Auburn fans as the Tigers defeated top ranked Alabama, 26-14.
Tigers quarterback Jarrett Stidham exemplified moments of excellence throwing for 237 yards on 21-of-28 attempts, while also adding 51 yards off 12 carries and one rushing score. Kerryon Johnson kept the chains moving on the ground for Auburn as the Tigers held the ball for a little over 36 minutes compared to right under 26 minutes for Alabama. Johnson finished with 104 yards off 30 carries for one rushing score, while tossing one touchdown as well.
With the new AP Top 25 rankings being released early Sunday afternoon, Auburn now ranked fourth as the country awaits the newly updated College Football Playoff poll, which will be announced Tuesday evening at 6:00 pm CST.
The Deep South's Oldest Rivarly will be renewed within the SEC Championship game this Saturday between Auburn and Georgia with kickoff scheduled for 3:00 pm CST at the Mercedes Benz Stadium in Atlanta, Ga. for a trip to the College Football Playoff final four.
Stay with Alabama News Network sports for post-season coverage for both Alabama and Auburn.