Capitol Hyundai Participates In Magical Christmas Toy Drive Shopping Spree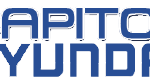 Alabama News Network is now even closer to filling our Magical Christmas Toy Vault, after another successful Magical Shopping Spree.
Rob Needham and Andrew Anderson of Capitol Hyundai joined Alabama News Network's Darryl Hood in scouring the isles for toys that will bring smiles to many children in the River Region this Christmas.
With the help of Needham's, daughter Emily and her two friends, Sydney and Elaina , it didn't take long until they had 3 shopping carts full of toys for kids that might not other wise have Christmas gifts this year.
"They are more experts than we are in picking out toys, so we get their input bring them out here they know what they are doing" said Needham.
From a Magic Eight-Ball, to puzzles, and dinosaurs the three 4th graders made sure to grab something for everyone. The caravan continued to the check out line, going a little over their 1,000 dollar budget.
"Its about much more than the toys, its an opportunity to help people people that need help, but we should be doing this all year long" explained Anderson.  Capitol Hyundai's donation will now join other toys in our Magical Christmas Toy Vault, that will be distributed through the Salvation Army, but you don't have to be an official sponsor to join in the spirit of giving.
You can also support Alabama News Network's Magical Christmas Toy Drive by visiting several drop-off location until December 15th. Click HERE for a complete list of locations.