Troy Police Chief Requests 'Use of Force' Investigation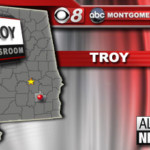 The Alabama State Bureau of Investigation is looking into whether Troy Police officers used excessive force while taking a teenager into custody over the weekend.
According to SBI, the 17-year-old male was injured while being arrested Sunday night in the area of Madison St. just before midnight.
The unidentified teen was taken to Troy Regional Medical Center and later transported to University of Alabama Medical Center in Birmingham. The teen has since been released.
Once the SBI's investigation is complete, the findings will be turned over to Pike County District Attorney Tom Anderson who will then present the information to a Grand Jury.
The SBI did not say when the investigation is expected to be completed.