Alabama Lawmakers Could Abolish Marriage Licenses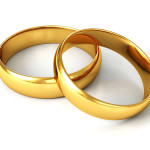 Alabama inched closer to abolishing judge-signed marriage licenses, a change that would let conservative probate judges avoid issuing marriage licenses to same-sex couples.
A few Alabama probate judges for years have refused to issue marriage licenses to anyone so they do not have to give them to gay couples.
The House Judiciary Committee on Wednesday approved the bill on a 9-5 vote. The measure cleared the Alabama Senate last week.
Instead of a license issued by a probate judge, couples would sign and submit a form. Couples would no longer need a wedding ceremony, but could choose to have one.
Republican Sen. Greg Albritton, of Range, said he is trying to strike a compromise that will follow federal law and "so we can have every county have marriages performed."
(Copyright 2018 The Associated Press. All rights reserved. This material may not be published, broadcast, rewritten or redistributed.)