Banks Woman Accused of Stealing Fuel; Business Burglary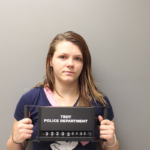 Troy Police have a charged Summer Ann Griffin, 24, of Banks with three counts of Unlawful Breaking and Entering a Motor Vehicle and one count of Burglary 3rd degree.  All are class C felonies.
Police say Griffin stole fuel from three buses in December 2017.
One bus belonged to a local church.   The other two buses were hit at the Troy Nutrition Center.
Police say surveillance video also indicated that Griffin was the suspect in a business burglary in December on Henderson Highway.
Griffin is being held in the Pike County Jail on bonds totalling $11,000.