CrimeStoppers School Gun Violence Initiative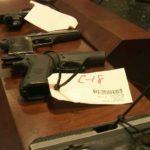 Tragedy in Parkland, Florida marked 8 shootings at U.S. schools, since the start of 2018.  Those startling numbers, Tony Garrett says, is one of the driving forces behind Crime Stoppers' efforts "to keep those guns out of our schools".
In the past year, there have been several initiatives In Montgomery aimed at keeping guns out of the hands of youth. Garrett the Crime Stopper's Executive Director explained an initiative that rewards students for speaking up well before a potentially deadly situation.
Under this initiative Crime Stoppers will award $500 dollars to any student that turns in another student with a gun. Garrett says the 2-year-old initiative has shown promise, sharing the numbers from the 2017-2018 school year alone.  Since the beginning of this school year Garrett says that they have collected 9 guns, that's not not including 'BB' guns or gun replicas.
Students who are turned in under the $500 gun initiative are then turned over to the local law enforcement.
Garrett says the hope of preventing a potentially deadly situation is the reason he's adamantly urging students to speak out, about a situation that makes them feel uneasy, before it escalates any further. "You may be in the cross fire," said Garrett "no one wants to be the one to say I could have said something or I should have said something after the fact".
Students who wish to remain anonymous can report a gun-related situation,  using a password protected "P3" app. The app launched in early February  though, it is not just for students reporting a peer with a gun. It is open to anyone in central Alabama to report crime to crime stoppers or law enforcement. The P3 app is available on the App Store or Google Play.