Rosa Parks Day, Supporters Calling On Lawmakers To Designate State Holiday For Civil Rights Icon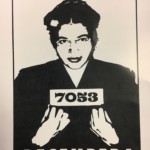 Alabama could be adding 'Rosa Parks Day' to its list of state holidays.  Supporters of the idea held a rally on the house chamber floor calling on law makers to designate December 1st to the late civil rights icon. If passed, the day would not be a full-fledged state holiday where state offices close.
Parks was arrested on December 1, 1955 after refusing to give up her bus seat to a white man, which later sparked the Montgomery Bus Boycott.
State legislators, representative Laura Hall and Senator Vivian figures have sponsored bills in both chambers in support of Rosa Parks Day. When asked why not make the day a full state holiday, Rep. Laura Hall said she wanted to avoid debate over the cost.
If passed Alabama would join only four other states to with a day to honor Parks.  "It's long overdue, but right on time"  said John Campbell after attending the rally. Fellow supporter  Vivier Bright said "we have somebody that is recognized not only nationally but in the world that we could have and should have long ago recognized".
December 1st is already Rosa Parks Day in Ohio and Oregon. California and Missouri, celebrate the holiday on her birthday, February 4th.