New Curfew At Festival Plaza Shopping Center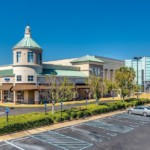 A new curfew is now in effect at an East Montgomery shopping center. Festival Plaza, located  at the corner of Vaughn and Taylor roads, is cracking down on unsupervised minors on the weekends.
The new curfew rules say that any one under 17 will require adult supervision starting every Friday at 6 pm through Sunday night.  All minors must be with someone over the age of 21, or they will have to leave the property. This new curfew is an hour earlier than the old curfew for the shopping center, and will be strictly enforced.
According to the landlord of the shopping center, Festival Plaza LLC. the stricter curfew is to make sure the plaza remains pleasant and family friendly. Additionally "any activity that threatens the well being of the property or our guests will be prosecuted", according to a press release on the new policy.