House Approves $85 Million for Prison Improvements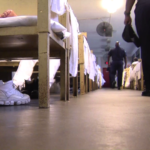 Alabama lawmakers have approved an $85 million increase for the state's prison system as they try to comply with a federal court order to improve mental health care for inmates.
The House of Representatives on Tuesday approved $30 million for the Department of Corrections before September and a $55 million boost in next year's general fund budget.
U.S. District Judge Myron Thompson ruled last year that mental health care in Alabama's prisons was "horrendously inadequate" and ordered the state to improve conditions.
The budget also includes an additional $1 million for the Department of Youth Services to create alternative treatment programs for troubled youth. In addition, it adds $14 million for state employees' pay raises and a one-time bonus for retirees.
(Copyright 2018 The Associated Press. All rights reserved. This material may not be published, broadcast, rewritten or redistributed.)