Time Running Out For Gun And School Safety Bills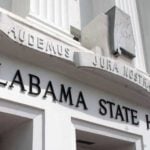 Alabama's legislative session is quickly coming to the end and so is time to act on school safety and gun control bills.
From arming teachers to banning the sale of assault-style rifles, lawmakers have introduced several bills since the Parkland, Florida school massacre.
A bill to raise the age to purchase semi-automatic weapons from 18 to 21 did not make it out of the Public Safety and Homeland Security committee Wednesday, after most of it's members skipped out on the scheduled debate.One representative's call to ban the sale of assault style rifles all-together was also canned.
The proposal to arm school teachers drummed up a lot of debate but will not go any further, after it did not go to vote in the house Tuesday.
Perhaps the only school or gun safety bill that will come out of this session is a bill that would allow Alabama School Systems to use money from an 'Advancement and Technology Fund' to beef up school security. Governor Kay Ivey endorsed the proposal that now awaits a vote in the Alabama Senate.