Voters Will Decide to Put Ten Commandments on State Property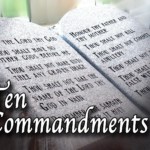 Alabama voters will face the choice of whether to display the Ten Commandments on state property like schools and public buildings in the November mid-term election.
The Alabama House of Representatives passed a constitutional amendment proposed by Republican state Sen. Gerald Dial 66-19 on Thursday. No state money could be used to display the set of rules or laws, given to the people of Israel by God.
Democratic critics said the proposal would violate the separation of church and state and incite federal lawsuits that would cost the state money. Roy Moore, who lost Alabama's special U.S. Senate election in December, was sued and removed as chief justice of the state's Supreme Court in 2003 because he refused to take down a marble monument of the Ten Commandments.
(Copyright 2018 The Associated Press. All rights reserved. This material may not be published, broadcast, rewritten or redistributed.)