Time Running Out To Sell Georgia Washington Middle School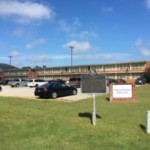 Time is quickly running out, before the pending sale of the Georgia Washington Middle school to Pike Road Expires.
A lawsuit calling to stop the sale of the school is scheduled to go before the courts later this week but for Pike Road it could be too late.
Last week the city of Montgomery filed an Amicus Brief, asking the Alabama Supreme Court to allow the sale of Georgia Washington Middle School and overturn a Montgomery Circuit Judge's ruling to halt the sale of the school until a final ruling on May 29th. The Judge also ordered mediation, in an attempt to resolve the matter before then.
Montgomery Mayor Todd Strange spoke out on the 19 page Amicus Brief , Monday he says he's hoping the sale will go through.
"The whole issue really is the authority of state superintendent under the statute that allows for intervention".
It is now up to the courts to decide whether the sale of Georgia Washington Middle School, as proposed in interim state superintendent Ed Richardson's intervention plan to tackle the school system's finances, is legal.
The suit will go to court for the second and likely last time later this week, but according to Pike Road's city attorney, Doyle Fuller,  that could be too little too late. Fuller, says that according to their contract they will have to pull out of the sale, if the Alabama Supreme Court does not intervene by the end of Monday, March 26th.
Still Montgomery Mayor Todd Strange says he's optimistic. "I will assure you that the supreme court is not going to be held hostage to a deadline that somebody else imposes" he explained  "The Supreme Court operates on their own time…and their own decision, they will make a thoughtful decision at the appropriate time".
Fuller say that Pike Road, plans to hold out for as long as possible before withdrawing from the sale but, either way plan to release a statement regarding the sale on Tuesday.