U.S. Budget Deficit Rose 18.4 Percent in March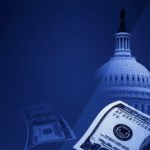 The federal government recorded a budget deficit of $208.7 billion in March, an increase of more than $32 billion from a year ago as revenues slipped and expenditures climbed.
The Treasury Department reports that the February deficit was 18.4 percent higher than a year ago, largely due to increased expenditures on benefits for the military, veterans and recipients of supplemental security income as well as higher Medicare payments because April expenses were paid in March.
For the first five months of this budget year, the deficit totals $599.7 billion, an increase of 13.8 percent from the same period a year ago. After President Donald Trump signed into law tax cuts, the Congressional Budget Office estimates this year's deficit will hit $804 billion, up almost $140 billion from last year.
(Copyright 2018 The Associated Press. All rights reserved. This material may not be published, broadcast, rewritten or redistributed.)