Peach Crop Hurt By Weekend Cold Snap?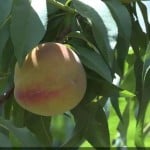 Too much cold weather or "chill hours" can mean bad news for the peach crop. After a weekend of chilly weather local experts say the quick chill may have actually helped farmers rather then hurt the peach crop this year.
According to the Alabama Cooperative Extension Service, the frost did hurt some blooms, but with a heavy crop set farmers need to do thinning anyway to help the trees produce. Colby Jones, Manager of Durbin Farms in Chilton County says the cold snap couldn't have come at a better time.
"The cold actually helped us out a bit, it might have knocked off a few peaches and things like that but it's actually helped the peaches because they are able to get a larger size at a earlier stage" said Jones calling this years peach crop a "night and day" difference when compared to last year's disappointing crop.
While it may only be early Spring, Jones says those depending on a juicy harvest are expecting a sweet Summer ahead.
"It's a huge, especially for us, economic relief. We ship a lot to like Mississippi and Florida" he explained " people who typically get them [peaches] from us were having to look to places like Georgia and South Carolina and even there that weren't that many peaches, and you could see the costs and prices that were sky rocketing".
One Chilton County Farmer, Kenyon Easterling, estimates his harvest will more than triple last year's. Local markets hope to have peaches available to sell by mid May.