Top International Military Officers Make 'International Honor Roll'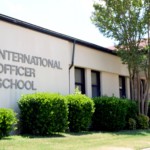 Air University at Maxwell Air Force Base honored some of their top international officer graduates Friday. Military officials from several different countries, made the trip back to Montgomery to see their names added to a wall of International Honor Roll inductees.
The program recognizes international officer graduates who now hold some of the most prominent positions in their country. Nominees must reach commander of the Air Force or higher in either military or civilian capacity. Only 511 officers of Air University's nearly 11,000 graduates have been inducted.
"I think that just by looking at their duty titles you can see that we've had role in their success" said  Air University president and commander Lt. General Anthony Cotton, "they literally are the ministers of defense in a lot of parts… most of them run their air forces in their countries, they out rank me".
In the programs 32 year history international officers from 99 countries have been inducted in the International Honor Roll.
Inductees include:
General Jorge D. Robles,  Commander, Chilean Air Force;
Lieutenant General (Ret) Theologos Symeonidis,  Previous Cabinet Chief,
Ministry of Defense- (previous) Commander, Hellenic Tactical Air Force;
Lieutenant General (Ret)George Paraschopoulos. Previous Deputy Chief of
Defence, Hellenic National Defence;
Major General Zoltán Mihócza, Chief of Staff, Hungarian Defence Forces
Joint Force Command;
Major General    Yousef Al Hnaity, Commander, Royal Jordanian Air Force;
Lieutenant General Galileo Gerard R. Kintanar Jr, Commanding General,
Philippine Air Force;
Air Chief Marshal Pongstorn Chaisen, Chairman of the Royal Thai Air Force
Advisory;
Induction In Absentia:
Colonel Salvador Ernesto Hernandez Vega, Chief of Staff of the Salvadoran
Air Force;
Maj General (Ret) Fernando R. Ordonez Velazquez, previous Vice Minister of
Defense for Policy, Peru;
General Manuel Teixeira Rolo, Chief of Staff of the Air Force, Portugal;
General Javier Salto Martinez-Avial, Chief of Staff of the Air Force, Spain;
Brigadier General Enoch Numbi, Chief of Staff of the Air Force, Democratic
Republic of Congo;
Dr. Khalid Bin Mohamed Al-Attiyah, Deputy Prime Minister, and Minister of
State for Defense Affairs, Qatar;