Prattville Woman Accused of Shoplifting; Leading Police on Chase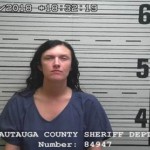 Whittney Laken Rhodes, 32, of Prattville, is accused of trying to elude police after officers tried to stop her vehicle.
Police say Rhodes was suspected of shoplifting from Rack Room Shoes before the chase. They say Rhodes struck a vehicle on McQueen Smith Road during her attempt get away.
Police say once the chase was over, they recovered the stolen property and that there were no injuries to the suspect, officers, or the motorist that was struck during the pursuit and apprehension of Rhodes.
Rhodes is charged with Theft of Property 4th, leaving the Scene of an Accident, Attempting to Allude Law Enforcement (2 Counts), Reckless Endangerment (5 Counts), and Traffic Violations (9 counts).
Her bond is set at $6500.