New Non-Stop Flight Option From Montgomery To Orlando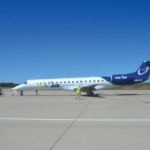 A brand new flight option has landed in the capitol city.  Thursday, airport and city officials celebrated the addition of a new direct flight from Montgomery to Orlando, Florida.
Alabama News Network's "Destination Fun" crew was among many media passengers to "test fly" the new non-stop flight from Montgomery Regional Airport to Orlando- Sanford International Airport. Thursday, they returned home to a welcome home celebration that doubled as a send-off party.
I've taken that trip with my children and my grandchildren,  it's such a long drive but now they say its probably 45-50 minutes and $99, I mean you just cant beat that" said Montgomery County Commissioner Elton Dean.
Via Airlines offers the flight, and for around 100 bucks each way.
"It gives opportunities not only for our citizens to go else where in the world conveniently and not have to go to Atlanta or somewhere else but also, central Florida will be able to come here because we've got so many new venues that have had world wide publicity…and we're seeing so many come many of them from Florida" said Montgomery Mayor Todd Strange.
As soon as the the plane was un-boarded, the first official group of passengers lined up, ready to board the flight headed back to the Sunshine State. Archie Woodruff was one of those, standing by.
"I'm a general contractor, from Greenville, Alabama and i've been making this trip for years" he explained "flying through Atlanta, layovers delays…this direct flight is going to be absolutely fantastic".
Via Airlines offers the flights to Orlando every Sunday, Monday, Thursday, and Friday. Each flight, holds 50 passengers.