State Education Superintendent Discuses School Safety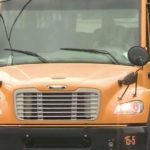 The conversation continues: What more can be done to make Alabama's schools safer?
State Superintendent Eric Mackey is weighing in on some of the safety protocols already used throughout the state and some of the areas that need to be strengthened.
Though the school year is wrapping up Mackey says education officials and law enforcement will use the time that students are away to expand upon some of the current security and safety measures such as the "Virtual Alabama" program. The program gives police access to floor plans in schools.
All schools in Alabama currently conduct at least 2 code red drills typically in the fall and spring, which includes active shooter drills. Mackey says a  large part of the school safety discussion, is taking input from local school systems on the security improvements they'd put in place. Cameras Mackey says are by far the most requested improvement.
"They want to update their security cameras so that if there were an assailant we're coming on campus…they can see that approach as quickly as possible and secure the school and lock it down"
While the majority of plans focus on securing the perimeter of schools there is also a push to nearly double the number of schools in the state that offer mental health services.
"catching students early if they have issues and then engaging with them and making sure that they have the helps and supports that they need, that's key" he explained.
Currently, only 36 school systems in the state are paired with 12 mental health authorities that offer school-based mental health services.