New Summer Literacy Program For MPS Students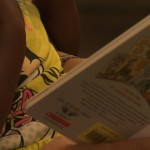 Montgomery students will be the first participants in a new summer achievement program to promote literacy.
Governor Kay Ivey, in conjunction with Montgomery Public Schools, the Alabama Department of Early Childhood Education, the Alabama State Department of Education, and the Alabama Reading Initiative announced the "Alabama Summer Achievement Program" or ASAP Thursday.
The pilot program will run from June 11th through July 24th at four local Montgomery public schools: Dannelly, Fitzpatrick, Highland Avenue, and E.D. Nixon elementary schools.
ASAP will provide students entering kindergarten through fourth grade more than 70 hours of reading and literacy instruction over six weeks. Breakfast and lunch will be provided at no cost and bus transportation will also be provided to children that are zoned for any of the four schools.
The program will run from 8:00 A.M. to noon., Monday through Friday. Space is limited to less than 1,000 students, and officials are urging parent student register their student here, as early as possible.