Town of Shorter Unveils Banner In Remembrance of "Native Son"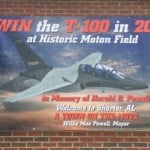 A banner unveiled on Friday pays tribute to a man who left a lasting impact in Macon County.
That banner, located off Exit 22 of I-85 in Shorter, Alabama, is in memory of Harold T. Powell, who died while on an industry-related trip in Italy last November.
He was known for his economic contributions to the town of Shorter , including helping continued efforts in bringing a United States Air Force jet training manufacturing project to Macon County. That project is sponsored by the defense contracting company Leonardo DRS, a finalist vying for the opportunity to build that project . If chosen, Tuskegee's Moton Field would be its home base.
Money for the banner was raised and donated by Dr. Elaine C. Harrington and her sorority, the Foundation of the Alabama State Association of Zeta Phi Beta Sorority, Inc.
At the ceremony, Harrington said her sorority voted unanimously to make banner in appreciation of the contributions Powell made to Macon County, and his home community of Shorter.
"Harold's tremendous love for his family, the Shorter community, and for Macon County will long be remembered. This unveiling of the T-100 banner is a heartfelt expression of our appreciation for everything Harold did for his community."
People who worked closely with Powell on a day-to-day basis say that its evident of how big of an impact Powell made in the community by looking at the crowd that showed up in his honor.
"This is kind of a celebration of his life and an acknowledgement of what his life and work meant to this project and to this community in general," Joe Turnham, director of the Macon County Economic Development Center, said.
The unveiling ceremony also featured a balloon release and guest luncheon.