Montgomery Regional Offers New Flight Destination to Customers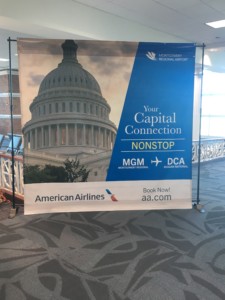 Montgomery Regional Airport is making it easier for government officials, military members, and families flying to Washington D.C.  Partnering with American Airlines, the airport now offers non-stop flights to  and from the nation's capitol. The flight will use a 50-seat passenger jet to transport passengers.
Airport officials are hoping the new service will make a positive impact for city of Montgomery and the surrounding area.
"Economic development is now a factor and easier traveling that we haven't had before," Montgomery Regional Airport board chair Tammy Knight Fleming says. "I think for families, it will offer and opportunity for working moms and dads to travel, take care of business and return home."
She says airport officials are consistently recruiting new services based on popular destinations that customers in Montgomery are wanting to go, and American Airlines was on board with the plan.
 "American Airlines was doing some capital to capitol rout engagement so we were able to pitch to them. we were one of three that were chosen earlier in the year. and with that our story, our reasoning, the rationale for having this flight, it all made sense."
During a ribbon-cutting Thursday morning the first flight of passengers arrived to Montgomery from Reagan National. It had 32 passengers entering into the airport, while 33 were scheduled for the take-off.
For more information on Montgomery Regional airport or to purchase tickets, you can visit  
flymgm.com
.