City Seeing Impact After Memorial Opening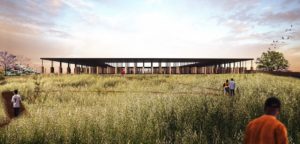 It's been six weeks since the Legacy Museum and National Memorial for Peace and Justice opened its doors in Montgomery, and the city is starting to to see its impact. The attraction uses interactive media, sculptures, and exhibits to pay homage to African American victims of the domestic slave trade, racial terrorism, and the Jim Crow Laws. It is the first national memorial to acknowledge the victims of racial lynching.
Montgomery mayor Todd Strange says that he's expecting around 100,00 people to visit the site.
"We've already seen a significant uptick in lodging," he says.
Security continues to be a factor in the impact. The Equal Justice Initiative, the non-profit organization that built the attractions, have hired private security companies to keep tourists and visitors safe. Security guards patrol around the perimeter of the site, keeping a watch for any negative activity that could happen.
"You're gonna have 20,000 additional people in your community. You want to make sure that they are secure and safe, and have a good time," Strange says. "That's a very responsible to do that because in today's environment, you never know whats going to happen."
The monument is bringing national attention to Montgomery, as well. The New York Times is expected to feature an article about the city around September.
The museum and memorial are open
For more information on the Legacy Museum and National Memorial for Peace and Justice or to purchase tickets, you can visit their website www.museumandmemorial.eji.org.