Alabama's Poor People Campaign Rally Outside Capitol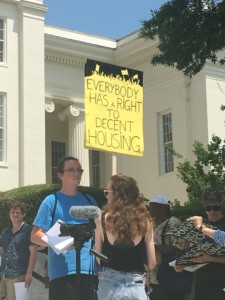 For the fifth time in as many weeks, the Alabama Poor People's Campaign rallied for their cause- being a voice for the less unfortunate. This time, the focus was on affordable housing, livable wages and a better education.
"We are the richest country in the world and there's a high rate of poverty," organizer Joe Keffer said.  "Some of the poorest counties in the whole country are right in this area. We are sending a message to legislatures that its time to do something about it."
Protesters say they want to raise awareness for these issues because no one else seems to be doing it for them.
"There are people in Alabama and across the country that don't enough have food to eat, that don't have enough income to get by, that don't have the healthcare they need to stay alive," Reverend Lynn Hopkins of the Unitarian Universalist Fellowship of Montgomery, says.
The protest made its way the rotunda in the State Capitol building, chanting "Everybody's gotta right to living wage jobs, everybodys gotta right to safe, affordable housing."
Protesters hope those words attract the attention of state and government officials.
"We want to let our government know that we are watching and they will be held accountable," Hopkins says. She adds that she does not expect to see immediate results.
Next week, the Alabama Poor People's Campaign will make it final protest in Alabama before joining national protesters in Washington D.C. on June 23rd.