EJI Opens Cafe', Bookstore Next To Legacy Museum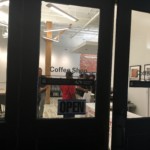 The Equal Justice Initiative now has a new addition to it's Memorial for Peace and Justice and Legacy Museum: a cafe', and bookstore.
The memorial and museum have been open for almost two months now, though this new space offers serves as somewhat of a lighter addition to some of the heavy and meaningful messages displayed in both.
The Gift Shop is located in The Alley on Coosa Street next door to the Legacy Museum in downtown Montgomery. It features a Starbucks Café with fresh baked goods from Little Red Cupcake. The bookstore features books on racial history and social justice.
The EJI says it's meant to be a space for visitors to reflect on and share their experiences at the Legacy Museum and the National Memorial for Peace and Justice.
Wednesday's grand opening also doubled as a book signing for author Anthony Ray Hinton, a man who spent thirty years on death row for a crime he didn't commit. With the help of EJI founder and executive director Bryan Stevenson, Hinton won his release in 2015.
"It means so much to me when I go in there and I look at the men and women that paid a heavy price some of them death" said Hinton of the Legacy Museum "for me to be able to come here after 30 years and sign some books…it's a small price to pay".
Hinton's book "The Sun Does Shine" is a selection in Oprah's summer book club.
The Café is open daily from 7:30am to 6pm. The Bookstore is open daily from 9am to 8pm and on Sunday from 9am to 6pm. The Gift Shop is closed on Tuesdays.